Are you noticing obvious signs of aging on your neck?
You're not alone! The neck is often overlooked in our skincare routines and deprived of revitalizing treatments. If left untreated for too long, it can be a dead giveaway of your age.

Don't neglect your neck - take advantage of SpaMedica's Neck Tight Treatment package. Save $500 to instantly improve overall texture, skin quality and laxity on your neck with little to no-downtime.

Rejuvenate your neckline this summer!
What is the Neck Tight Treatment Package?
The Neck Tight Treatment package combines two treatments - Morpheus8 and Radiesse.

Morpheus8 is an innovative non-surgical treatment that combines microneedling with radiofrequency (RF) technology to rejuvenate and tighten the skin. While it is commonly used for facial rejuvenation, Morpheus8 is also highly effective when specifically targeting the neck area. The treatment involves the use of ultrafine needles that penetrate the skin, delivering RF energy deep into the underlying tissues. This process stimulates collagen and elastin production, promoting skin tightening and reducing the appearance of wrinkles and sagging.

When Morpheus8 treatment is combined with Radiesse, a dermal filler, the results for neck rejuvenation can be further enhanced. Radiesse stimulates the natural production of collagen, resulting in long-term improvements to the skin's texture and firmness. By synergistically using Morpheus8 and Radiesse together, a patient can expect a smoother, tighter, and more youthful appearance of the neck.
Get started with a complimentary consultation!
Please fill in your information below, and a member of our team will contact you shortly.
Our Exclusive Neck Tight Treatment Package: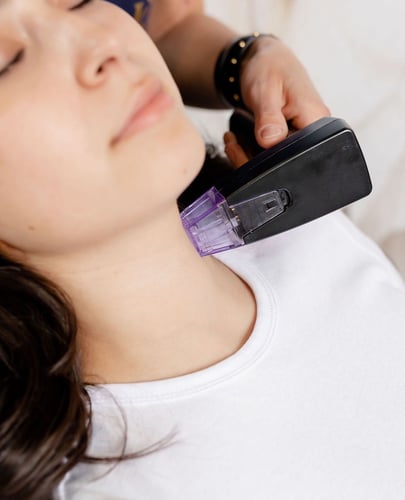 Neck Tight Treatment Package
3 Sessions of Morpheus8 + 2 Syringes of Radiesse
Please note: this package is intended as a starting point and may not fully meet the individual needs of every patient. Each person's requirements are unique and can vary based on factors like desired outcomes and personal responses. To accurately assess your unique needs, a consultation with our experienced medical professionals is included.
Over 100 Five-Star Google Reviews

Really helpful and friendly team. They guided me step-by-step and patiently answered all of my many questions about the recovery process. Excellent customer attention and service as well from the entire team. On the day of the procedure, I met with the other technicians and went over everything in great detail. In terms of their expertise, I would 100% vouch for them. After the procedure, they followed up with me and made sure I was doing well. I can't wait to see the entire results from my treatment.
I have been seeing Dr Mulholland for 16 years. Needless to say I have been happy with the results or would not have continued to return. There are many other plastic surgeons to choose from but few that continue to offer you treatment until you are satisfied with the outcome. He goes above and beyond to please his patients and never rushes me thru but listens to my concerns and acknowledges them. I have had both surgery and injectables and would recommend him to anyone.
I'm in love with my new face. I shouldn't say new because I look exactly like myself just years younger. Dr. Ladha is so professional and she made me feel incredibly comfortable through the entire process. She walked me through the long-term full face treatment process (multiple appointments over a long period of time) and explained in detail what each procedure was and what the benefits were. I saw immediate results after each appointment and was even happier after allowing time to heal. Over the last couple of months she has rejuvenated my face and I feel beautiful 😍 I recommend her to anyone who is maybe a little nervous to try an injectable treatment, she will take the best care of your face. I'm 32 and feel like I'm 25 again!
From the moment I stepped through the doors of Spamedica NONSURGICAL I was warmly welcomed by Jennifer at the front desk. A colleague highly recommended I book a Silk Peel Facial, with Jennifer the aesthetician and yes, it was a day filled with Jennifers! Jennifer was professional, informative and very sweet. If you are looking for an effective and relaxing facial that makes your skin feel vibrant, silky and youthful, I highly recommend booking your next appointment with Jennifer!
I discovered Dr. Mulholland and did some reading and talking to friends who had friends who knew him or worked with him. All that I heard was reassuring and encouraging. I had a consultation with Paulette (his nurse at the time), then Dr. M. I was extremely impressed and I am a hard marker. There was no pressure that I felt, and I received honest assessments of what could be accomplished for me. My expectations were realistic, which is helpful...very helpful.
Very happy with my experience so far! I finally decided to look into getting my tattoo removed due to some oddities in it. SpaMedica was my first choice based on feedback from friends and online. I started with a consultation to learn more about the process. They were very detailed and thorough. I wasn't rushed at all and I got all my questions answered. They helped me really understand the process and what I can expect.
Meet Dr. Ladha
Dr. Malika Ladha is a double board-certified dermatologist. She is an emerging leader in aesthetic dermatology, having completed Canada's only official aesthetic dermatology fellowship. Dr. Ladha focuses on achieving optimal aesthetic outcomes by delivering a comprehensive, multi-modal approach.
66 Avenue Rd Lower Level, Toronto, ON M5R 3N8
Please fill in your information below, and a member of our team will contact you shortly.
© 2023 SpaMedica
All Rights Reserved